HOW TO DEAL WITH THE LATEST KEY ISSUES FACED BY DEVELOPERS, JOINT MANAGEMENT COMMITTEE, MANAGEMENT COMMITTEE AND PROPRIETORS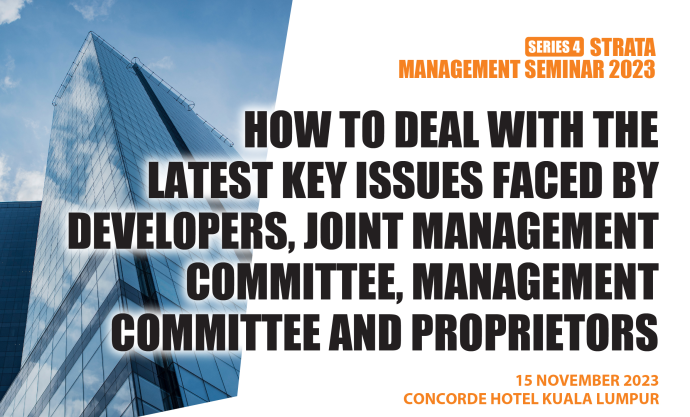 Strata Management Seminar 2023 (Series 4)
Date:15 November 2023 (Wednesday)
Venue: Concorde Hotel Kuala Lumpur
Organiser: Logic Plus Events
Strategic Partners: Chee Hoe & Associates; BurgieLaw
*BOVAEP / LPPEH: 5 CPD HOURS APPLIED
*HRDC CLAIMABLE*
This 1-day intensive seminar cum workshop is the final seminar in our Strata Management Seminar Series for 2023. The main focus of this edition would be to equip participants with the knowledge and solutions to deal with the some of the key issues faced by developers, joint management committee, management corporation, managing agents and proprietors.
The speaker will deal with the important issues such as: transition from Joint Management Body (JMB) to Management Corporation (MC); duties in relation to audited accounts; penalties that come from failure to audit accounts; parameters in determining charges and grounds to set aside charges; different rate of charges; and management & maintenance of provisional blocks under the current strata management regime.
The KEY TOPICS include:
How to ensure smooth transition from Joint Management Body (JMB) to Management Corporation (MC)
What are the Developer's duties in relation to auditing of accounts
Why different rates of charges and when to introduce them
How to ensure the proper management and maintenance of provisional blocks
Latest legal decisions involving the maintenance and management building and common property
Speaker Profile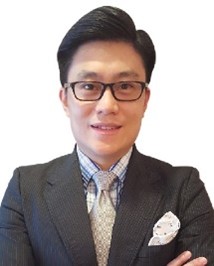 A Certificate of Legal Practice ("CLP") Book-prize winner, the founding partner of Chee Hoe & Associates, Mr Lai was admitted and enrolled as an advocate and solicitor of the High Court of Malaya in 2005. He was also the Chairperson of the Kuala Lumpur Bar Young Lawyers Committee. He acts for the Bar Council on various cases.Mr Lai specialises in both civil and corporate litigation in particular strata management disputes. He also provides corporate advisory works and advises corporates on strata related pre-emptive actions. He argues complicated strata management issues in court regularly and is constantly sought after to provide trainings and talks. He acts for joint management committees (JMC), management corporations (MC) and developers. He is the counsel for several authoritative cases relating to strata including Chin Moy Yen, Pearl Suria, Obata Ambak
He is also the author of the book "Strata Management Practice & Procedure, 2019 Edition" published by CLJ Publication.He also regularly updates Strata related cases on https://blog.burgielaw.com/
and https://cheehoe.com/blog/He is also empanelled with the Asian International Arbitration Centre ("AIAC") as a chartered arbitrator (fellow of CIArb) and certified adjudicator.
He also sits in the focus committee in proposing amendments to the Strata Management Act 2013 and the Strata Management (Maintenance & Management) Regulations 2015
WHO SHOULD ATTEND
Property Developers
Members of the management committee
Members of the joint management committee
Legal Practitioners / Consultants
Property Managers
Local Authorities & Commissioners
Property Owners
Valuers, Appraisers and Estate Agents
REGISTRATION FEES
RM850 – Early Bird Registration: Payment received by 10 November 2023
RM990 – HRDC / Normal Registration
*HRDC CLAIMABLE*
Brochures can be downloaded below: