How To Exercise The Proper Duties, Powers And Legal Obligations Of Developers, Jmb / MC & Property Managers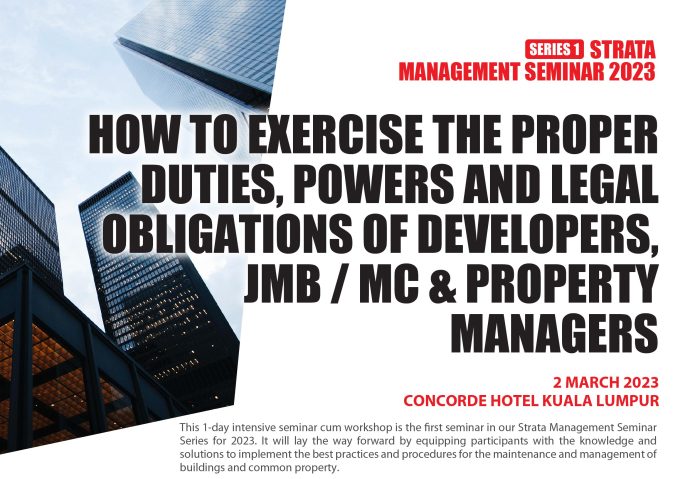 Date: 02 March 2022 (Thursday)
Venue: Concorde Hotel Kuala Lumpur
Organiser: Logic Plus Events
Strategic Partners: Chee Hoe & Associates; BurgieLaw
*BOVAEP / LPPEH: 5 CPD HOURS APPLIED
This 1-day intensive seminar cum workshop is the first seminar in our Strata Management Seminar Series for 2023. It will lay the way forward by equipping participants with the knowledge and solutions to implement the best practices and procedures for the maintenance and management of buildings and common property.
The speakers will deal with the important issues, such as, what are the statutory obligations, express and implied powers of a developer; when and how to convene the 1st AGM of MC; how to draft resolutions; what are the factors to consider before convening the AGM; formation of JMB / MC in townhouses / shophouses; how to deal power struggle among entities in strata schemes; and what constitutes a property manager vs a managing agent.
Another highlight of the seminar will be the latest updates and guidelines from the Commissioner of Buildings (COB). The COB will highlight and discuss the current issues and challenges affecting the strata property management and development sector.
The KEY TOPICS include:
What are the extent of powers of a Developer?
How to convene the 1st Annual General Meeting (AGM) of the Management Corporation (MC)
What are the key considerations in deciding whether to convene an AGM of JMB / MC?
What are the current issues and challenges in Strata Development and Strata Management
What are the key differences between a Property Manager and Managing Agent?
WHO SHOULD ATTEND
Property Developers
Members of the management committee
Members of the joint management committee
Legal Practitioners / Consultants
Property Managers
Brochure can be downloaded here"