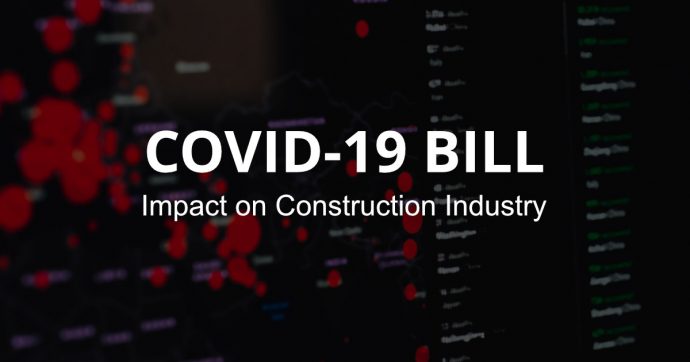 The Temporary Measures for Reducing the Impact of Coronavirus Disease 2019 (COVID-19) Bill ["Covid-19 Bill"] which was tabled for its first reading in the Dewan Rakyat on 12.8.2020 provides certain reliefs in cases of inability to perform contractual obligations, applicable for the period between 18.3.2020 to 31.12.2020.
These reliefs also extend to the contractual obligations imposed on main contractors/subcontractors in the construction industry:
Blanket Prohibition on Exercise of Contractual Rights
Section 7 of the Covid-19 Bill provides that the inability of any party to perform its contractual obligation due to the measures prescribed, made or taken under the Prevention and Control of Infectious Diseases Act 1988 to control or prevent the spread of COVID-19 shall not give rise to the other party exercising its rights under the contract.
The Covid-19 Bill then specifies that such relief from the performance of contractual obligations applies to:
Construction work contract or construction consultancy contract and any other contract related to the supply of construction material, equipment or workers; and
Performance bond or equivalent granted pursuant to a construction contract or supply contract.
[See: Schedule (Part II)]
Scenario: Main contractor appoints a subcontractor to carry out excavation work to be completed by 30.6.2020. If the subcontractor only completes work by 31.7.2020 because of a lack of manpower due to the limit of number of employees on site during the RMCO, the main contractor will not be able to impose liquidated ascertained damages against the subcontractor for such breach of contract.
Mediation
Section 9 of the Covid-19 Bill further provides that any dispute arising from the failure of parties to carry out their contractual obligation may be referred to mediation. Any agreement reached by parties as an outcome of the mediation shall be in the form of a settlement agreement signed by both parties. Such settlement agreement shall be binding on both parties.
Scenario: An unhappy main contractor initiates a suit against a subcontractor for liquidated ascertained damages for each day of delay. Main contractor and subcontractor agree to mediate the matter wherein both parties discuss and come to a compromise. Said compromise will be in written form i.e. a Settlement Agreement and binding on the main contractor and subcontractor.
Presenting a Bankruptcy Petition
Section 20 of the Covid-19 Bill provides that a bankruptcy petition cannot be filed against a debtor unless the debt amounts to RM100,000.00.
Previous threshold for filing a bankruptcy petition was RM50,000.00 (Section 5 of the Insolvency Act 1967).
Scenario: Main contractor has a judgment against a subcontractor, a sole proprietor, for liquidated ascertained damages amounting to a sum of RM60,000.00. Main contractor however cannot initiate bankruptcy proceedings against subcontractor based on this judgment alone as it is for a sum of less than RM100,000.00.
Existing Suits
The Covid-19 Bill provides that if any proceedings for damages have already been initiated after 18.3.2020, they will not be affected. Similarly, if an adjudication award has been delivered after 18.3.2020, the adjudication award is still valid.
Scenario: A main contractor initiated adjudication proceedings under the Construction Industry Payment and Adjudication Act 2012 ["CIPAA"] against a subcontractor and an adjudication decision was delivered on 1.8.2020. The adjudication decision is still valid.