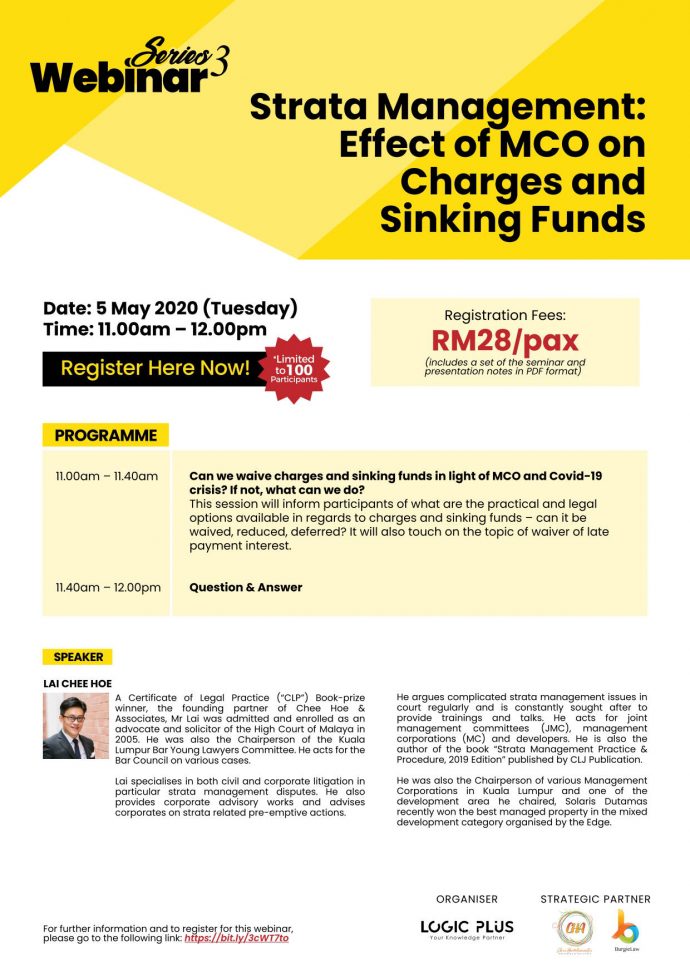 We will be having a 1-hour live Zoom webinar on the 5th May 2020 at 11am to discuss whether we can waive charges and sinking funds in light of Movement Control Order (MCO) period during Covid-19.
Date: 5th May 2020
Time: 11am-12pm
Organiser:
Logic Plus Events
Strategic Partners:
Chee Hoe & Associates
BurgieLaw
How to Register?
Registration Fee: RM28 per pax (includes webinar presentation slides)
To register your ticket, please visit our registration page.
Programme
11.00am – 11.40am
Can we waive charges and sinking funds in light of MCO and Covid-19 crisis? If not, what can we do?
This session will inform participants of what are the practical and legal options available in regards to charges and sinking funds – can it be waived, reduced, deferred? It will also touch on the topic of waiver of late payment interest.
11.40am – 12.00pm
Question & Answer
Speaker's Profile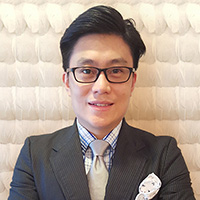 Lai Chee Hoe
Mr Lai specialises in both civil and corporate litigation in particular strata management disputes. He also provides corporate advisory works and advises corporates on strata related pre-emptive actions. He argues complicated strata management issues in court regularly and is constantly sought after to provide trainings and talks. He acts for joint management committees (JMC), management corporations (MC) and developers. He is also the author of the book "Strata Management Practice & Procedure, 2019 Edition" published by CLJ Publication.
He also regularly updates Strata related cases on https://www.burgielaw.com/. He was also the Chairperson of various Management Corporations in Kuala Lumpur and one of the development area he chaired, Solaris Dutamas recently won the best managed property in the mixed development category organised by the Edge.
He is also empanelled with the Asian International Arbitration Centre ("AIAC") as a chartered arbitrator (fellow of CIArb) and certified adjudicator.