HOW TO ENSURE THE PROPER MAINTENANCE AND MANAGEMENT OF BUIDLINGS AND COMMON PROPERTY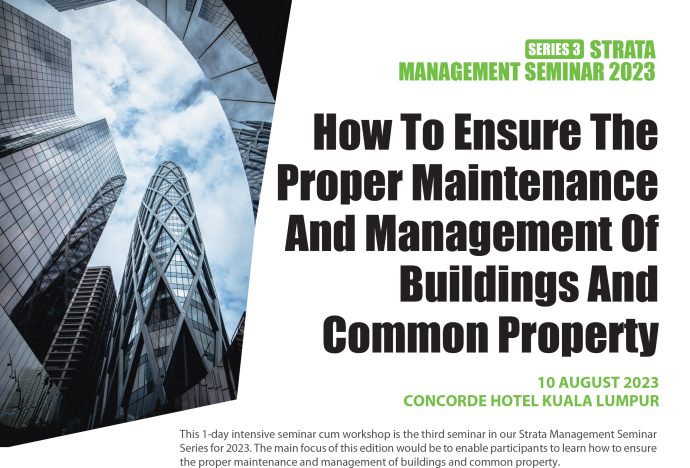 Strata Management Seminar 2023 (Series 3)
Date: 10 August 2023 (Thursday)
Venue: Concorde Hotel Kuala Lumpur
Organiser: Logic Plus Events
Strategic Partners: Chee Hoe & Associates; BurgieLaw
*BOVAEP / LPPEH: 5 CPD HOURS APPLIED
*HRDC CLAIMABLE*
This 1-day intensive seminar cum workshop is the third seminar in our Strata Management Seminar Series for 2023. The main focus of this edition would be to enable participants to learn how to ensure the proper maintenance and management of buildings and common property.
The speaker will deal with the important issues such as: what are share units and what are weightage factors and how does a developer assign share units; who can be a developer's representative; what do you do if there is no deed of mutual covenant or house rules and what are the parameters in introducing additional by-laws; what are the mechanisms in claiming from the common property defects account and how does a developer deal with a claim made against the common property defects account?
The KEY TOPICS include:
Understanding the pre-requisites in the application for a strata scheme
How to effectively regulate a strata scheme
Critical issues faced by a developer's representative or elected committee member of the Joint Management Body (JMB) / Management Committee (MC)
How to deal with claims made against the common property defects account during the Defect Liability Period?
Speaker Profile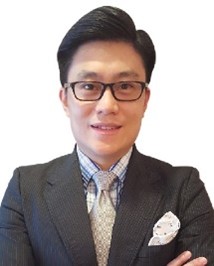 Lai Chee Hoe
A Certificate of Legal Practice ("CLP") Book-prize winner, the founding partner of Chee Hoe & Associates, Mr Lai was admitted and enrolled as an advocate and solicitor of the High Court of Malaya in 2005. He was also the Chairperson of the Kuala Lumpur Bar Young Lawyers Committee. He acts for the Bar Council on various cases.
Mr Lai specialises in both civil and corporate litigation in particular strata management disputes. He also provides corporate advisory works and advises corporates on strata related pre-emptive actions. He argues complicated strata management issues in court regularly and is constantly sought after to provide trainings and talks. He acts for joint management committees (JMC), management corporations (MC) and developers. He is also the author of the book "Strata Management Practice & Procedure, 2019 Edition" published by CLJ Publication.
He also regularly updates Strata related cases on https://blog.burgielaw.com/. He was also the Chairperson of various Management Corporations in Kuala Lumpur and one of the development area he chaired, Solaris Dutamas recently won the best managed property in the mixed development category organised by the Edge.
He is also empanelled with the Asian International Arbitration Centre ("AIAC") as a chartered arbitrator (fellow of CIArb) and certified adjudicator.
He also sits in the focus committee in proposing amendments to the Strata Management Act 2013 and the Strata Management (Maintenance & Management) Regulations 2015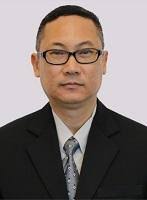 SR Looi Kam Seng
He is currently the Director of Survey, Cadastral Legislation Section attached to the Department of Survey and Mapping Malaysia (JUPEM). He first attached as Assistant Director of Survey with the Department of Survey and Mapping Penang in 1992.
Having more than 30 years' experience in Cadastral Surveying and received his Degree in land Surveying from University Teknologi Malaysia (UTM) in 1991. He is also a Registered Land Surveyor and a Subject Matter Expert (SME) in Cadastral Surveying.
REGISTRATION FEES
RM850 – Early Bird: Payment received by 4 August 2023
RM990 – Normal Price: Payment received after 4 August 2023
Brochures can be downloaded below: