HOW TO AVOID THE CRITICAL MISTAKES AND COMMON LIABILITIES WHEN IT COMES TO DELIVERY OF VACANT POSSESSION IN LIGHT OF EOT FACED BY HOUSING & PROPERTY DEVELOPERS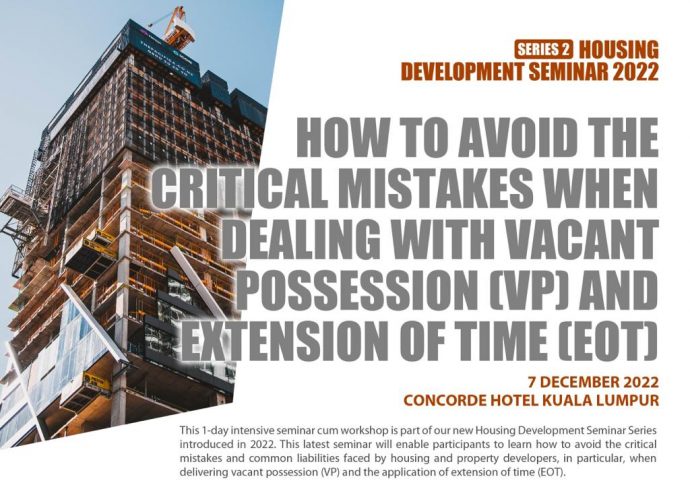 Date: 07 December 2022
Venue: Concorde Hotel Kuala Lumpur
Organiser: Logic Plus Events
Strategic Partners: Chee Hoe & Associates; BurgieLaw
BOVAEP / LPPEH: 5 CPD HOURS APPLIED
This 1-day intensive seminar cum workshop part of our new Housing Development Seminar Series introduced in 2022. This latest seminar will enable participants to learn how to avoid the critical mistakes and common liabilities faced by housing and property developers, in particular, when delivery of vacant possession and the application of extension of time (EOT).
The speaker will also deal with all the latest developments affecting housing developments by highlighting the recent key decisions involving issues such as: does the Controller / Minister still have power to grant an EOT; can purchasers filed an action against the Developer for LAD starting from 36 month onwards; the exemptions still applicable under the Covid-19 Act; and what are the risks a developer may face when applying for an extension of time?
The KEY TOPICS include:
How does extension of time (EOT) impact on the delivery of vacant possession
Can a developer apply for extension of time (EOT) to extend the period of completion as determined in the prescribed SPA?
How do you mitigate the risk of having the extension of time (EOT) invalidated
What are recent key issues currently affecting delivery vacant possession (VP) and extensions of time (EOT)?
WHO SHOULD ATTEND
Property Developers
Legal Practitioners / Consultants
Property Managers
Local Authorities & Commissioners
Property Owners
Valuers, Appraisers and Estate Agents