Details:
Date:  

24 February 2022
Venue: Royale Chulan Hotel Kuala Lumpur
Organiser: Logic Plus Events
Strategic Partners: Chee Hoe & Associates; BurgieLaw; LexScout (Law Suit Search)
*BOVAEP / LPPEH: 5 CPD HOURS APPLIED
This 1-day intensive seminar cum workshop is the first seminar in our Strata Management Seminar Series for 2022. It will lay the way forward by equipping participants with the knowledge and solutions to implement the best practices and procedures for the maintenance and management of buildings and common property. The focus of this edition would be to enable participants to learn how to avoid at all costs the critical mistakes and common liabilities faced by developers, joint management bodies, management corporations and property managers.
Another highlight of the seminar is the latest updates directly from the Commissioner of Buildings (COB) itself. The COB will highlight and discuss the latest issues affecting the conduct / requirements of AGMs and she will also share with participants what are the latest enforcement policies and procedures.
The KEY TOPICS include:
MISTAKES TO BE AVOIDED AT ALL COSTS BY DEVELOPERS
CRITICAL ISSUES FACED BY AN ELECTED COMMITTEE MEMBER OF THE JOINT MANAGEMENT BODY / MANAGEMENT CORPORATION
COMMON LIABILITIES OF JOINT MANAGEMENT BODY / MANAGEMENT CORPORATION (CIVIL & CRIMINAL)
LATEST ISSUES AND UPDATES FROM COMMISSIONER OF BUILDINGS (COB) 2022
ISSUES ARISING FROM GENERAL MEETINGS
WHO SHOULD ATTEND:
Property Developers
Members of the management committee
Members of the joint management committee
Legal Practitioners / Consultants
Property Managers
Local Authorities & Commissioners
Property Owners
Valuers, Appraisers and Estate Agents
REGISTRATION FEES:
RM800 – Early Bird: Register and Pay by 18 February 2022
RM900 – Normal Price: Register and Pay after 18February 2022
Our seminars/workshop will strictly follow all the necessary SOPs and guidelines, especially those related to social distancing and hygiene
Download Seminar Programme and Registration Form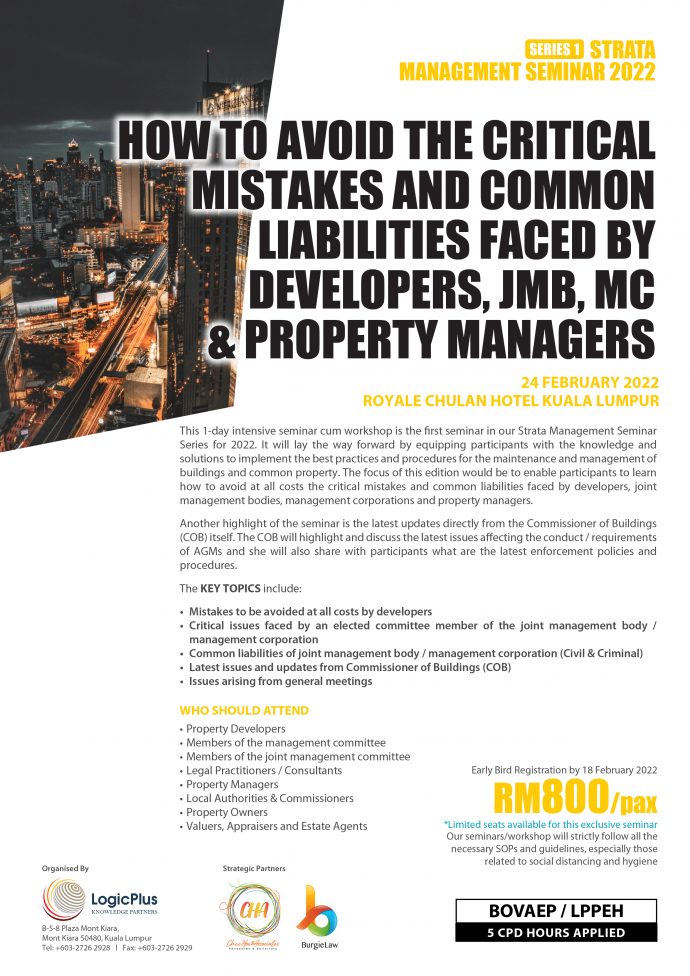 SPEAKERS: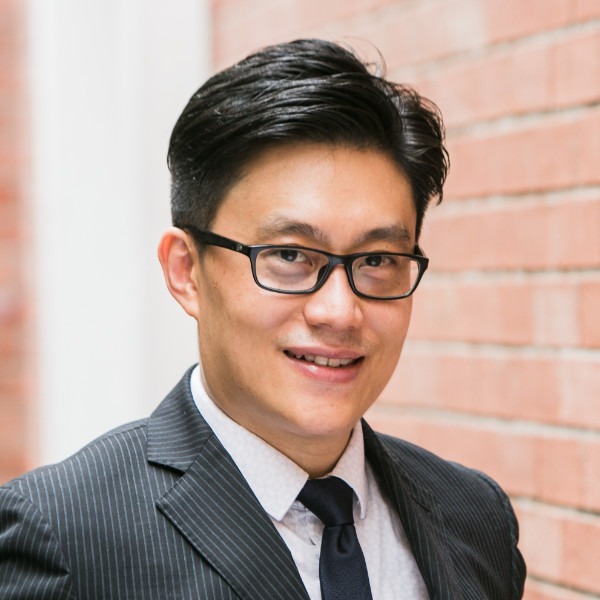 Lai Chee Hoe
A Certificate of Legal Practice ("CLP") Book-prize winner, the founding partner of Chee Hoe & Associates, Mr Lai was admitted and enrolled as an advocate and solicitor of the High Court of Malaya in 2005. He was also the Chairperson of the Kuala Lumpur Bar Young Lawyers Committee. He acts for the Bar Council on various cases.
Mr Lai specialises in both civil and corporate litigation in particular strata management disputes. He also provides corporate advisory works and advises corporates on strata related pre-emptive actions. He argues complicated strata management issues in court regularly and is constantly sought after to provide trainings and talks. He acts for joint management committees (JMC), management corporations (MC) and developers.
He is also the author of the book "Strata Management Practice & Procedure, 2019 Edition" published by CLJ Publication.
He also regularly updates Strata related cases on https://blog.burgielaw.com/. He was also the Chairperson of various Management Corporations in Kuala Lumpur and one of the development areas he chaired, Solaris Dutamas recently won the best managed property in the mixed development category organised by the Edge.
He is also empanelled with the Asian International Arbitration Centre ("AIAC") as a chartered arbitrator (fellow of CIArb) and certified adjudicator.
He also sits in the focus committee to propose amendments to the Strata Management Act 2013 and the Strata Management (Maintenance & Management) Regulations 2015
Puan Jayanthi (COB Petaling Jaya)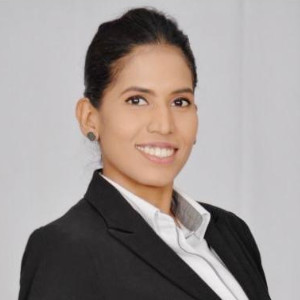 Jayanthi is currently the Director of Unit Commissioner of Building (COB) in Majlis Bandaraya Petaling Jaya. She was previously the Director of Section Commissioner of Building (COB) in Majlis Perbandaran Port Dickson.
She has a Bsc (First Class) in Property Management (UTM) and is a member in Royal Institute Surveyors Malaysia (RISM), member in Malaysian Institute Property and Facility Managers (MIPFM) and Registered Valuer, Estate Agent and Property Managers (BOVEAP). She is also the recipient of awards by the Board of Valuers, Appraisers, Estate Agents and Property Managers Malaysia and National Institute of Valuation (Inspen).
Jayanthi was actively involved in the drafting and working committees for the COB Manual by Valuation and Property Services Department under Ministry of Finance. She is also currently involved in the drafting of Amendment Strata Management Act 2013 and regulations, Formation of Subsidiary Management Corporation before filing Schedule of Parcel and current member of KPKT Focus Group Dealing with Different rates of charges by JMB.
Recently, she led her department by creating a new approach to manage all JMB and MC through the eCOB management system. She is the pioneer in the country on the implementation of such a system.