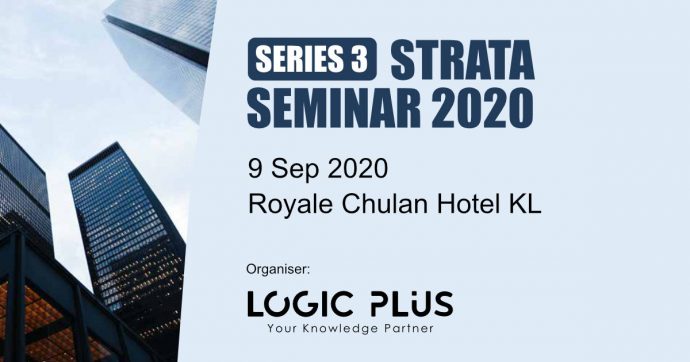 POST COVID-19: How to deal with the key issues faced by developers, JMB and MC under the Housing Development Act & Strata Management Act
Date: 9 September 2020
Venue: Royale Chulan Hotel Kuala Lumpur
This 1-day intensive seminar cum workshop is the third seminar in our Strata Management Seminar Series for 2020. The main focus of this edition would be to enable participants to learn how to deal with some of the key issues faced by Developers, JMBs and MCs post Covid-19.
The key topics include:
Covid-19 Bill and its impact on Developers on issues relating to Defect Liability Period, Delivery of Vacant Possession and Liquidated Ascertained Damages
How will the Covid-19 Bill affect Joint Management Bodies and Management Corporations and Purchasers?
Issues arising from the application of Liquidated Ascertained Damages (LAD)
Extension of Time (EOT) by Developers
How to deliver valid Vacant Possession (VP)
Applicability of the Defect Liability Period (DLP)
How to determine charges for the 1st AGM of Joint Management Body (JMB)
How to ensure smooth transition from Developer to JMB
The legislations that will be referred to are the Housing Development Act 1966; Strata Management Act 2013; Strata Management (Maintenance and Management) Regulations 2015; and Strata Management (Compounding of Offences) Regulations 2019.
For the full programme agenda, please download our seminar brochure below.
Who should attend:
Property Developers
Members of the joint management committee (JMC)
Members of the management committee (MC)
Legal Practitioners
Property Managers
Local Authorities & Commissioners
Valuers, Appraisers and Estate Agents
Property Owners
Seminar Registration Details:
Early-bird Registration (RM800/pax).
Normal Price: RM900/pax after 3rd September 2020.
Group discount: 3 pax & above enjoys 5% discount | 5 pax & above enjoys 10% discount
Board of Valuers, Appraisers, Estate Agents and Property Managers
5 CPD HOURS APPROVED
Organiser: Logic Plus
Strategic Partners: Chee Hoe & Associates, BurgieLaw, Jeeva Partnership, MIPFM
Download brochure and registration form below: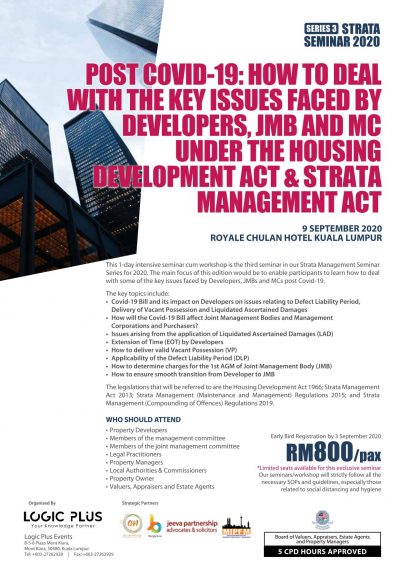 About the Speakers:
Dato' Shamesh Jeevaretnam is an active litigator and a certified arbitrator. Dato' is currently the President of the Home Buyers Tribunal, a division of the Housing and Local Government Ministry which is a dispute resolution forum between purchasers and developers. Having been in legal practice for approximately two decades, Dato' Shamesh has represented various corporations and multinationals in contentious and non-contentious matters. His practice has a civil and commercial litigation flavour mixed with intellectual property.
He has extensive experience in dealing with commercial disputes and often appears at the High Court, Court of Appeal and Federal Court. He has represented various joint management bodies, management corporations and developers in suits involving late delivery, property management disputes, maintenance claims, and disputes pertaining to common areas. Dato' is also a certified trainer and had spoken on various topics particularly on housing development law in local and international platforms.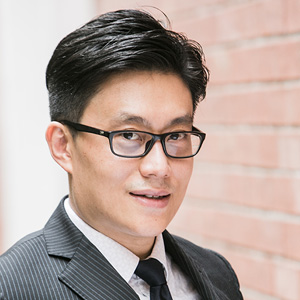 Mr. Lai Chee Hoe, a Certificate of Legal Practice ("CLP") Book-prize winner, the founding partner of Chee Hoe & Associates, Mr Lai was admitted and enrolled as an advocate and solicitor of the High Court of Malaya in 2005. He was also the Chairperson of the Kuala Lumpur Bar Young Lawyers Committee. He acts for the Bar Council on various cases.
Mr Lai specialises in both civil and corporate litigation in particular strata management disputes. He also provides corporate advisory works and advises corporates on strata related pre-emptive actions. He argues complicated strata management issues in court regularly and is constantly sought after to provide trainings and talks. He acts for joint management committees (JMC), management corporations (MC) and developers. He is also the author of the book "Strata Management Practice & Procedure, 2019 Edition" published by CLJ Publication.
He also regularly updates Strata related cases on this blog. He was also the Chairperson of various Management Corporations in Kuala Lumpur and one of the development area he chaired, Solaris Dutamas recently won the best managed property in the mixed development category organised by the Edge.
He is also empanelled with the Asian International Arbitration Centre ("AIAC") as a chartered arbitrator (fellow of CIArb) and certified adjudicator.