We have on a previous article written about the Guidelines issued by KPKT for the MCO.
On 1.5.2020, the Prime Minister announced several relaxed rules to the MCO or better known as the conditional MCO ("CMCO").
The new Regulations were gazetted on 3.5.2020 and can be seen as below:
The new Regulations take effect from 4.5.2020 and will apply until 12.5.2020.
A quick summary on some of the regulations are:
One can now move without any restrictions within any "infected local area" An "infected local area" means area identified as those states and federal territories in Malaysia (as provided by the Prevention and Control of Infectious Diseases (Declaration of Infected Local Areas) Order 2020. That means, one can travel within inter-state.
One can now move from one state to the other but only for work or for a person who is stranded at any place due to the control of movement, to return home.
No person shall participate in any gathering or procession, whether for economic, religious, educational and learning, sports, recreational, social or cultural purposes. One may now however gather for a funeral on the condition that the attendance at such funeral shall not exceed 20 persons.
A person driving a private vehicle can now carry more than 3 passengers who stay in the same house as him.
A citizen, a permanent resident of Malaysia or expat returning from overseas shall undergo health examination upon arrival in Malaysia.
In Regulation 3, it also provides a schedule of prohibited activities of which no person shall carry out, organise, undertake or be involved in those prohibited activities. The prohibited activities include:
1. Entertainment, leisure and recreational activities which may cause a crowd to gather;
2. Activities relating to religious, cultural and art festivities which may cause a crowd to gather;
3. Business activities which may cause a crowd to gather;
4. Activities at a centralized labour quarters, employees' hostel and dormitory which may cause a crowd to gather;
5. Fitting of clothes, using fitting rooms in clothes stores, trying on fashion accessories in stores and providing cosmetic testers in stores P.U. (A) 136. 1705;
6. Services in barbershops and beauty salons;
7. Filming movies, dramas, documentaries and advertisements;
8. Cruise ship activities, tourism services, and services at accommodation premises under the Tourism Industry Act 1992 [Act 482];
9. Installation and maintenance of machinery activities (lift, escalator, boiler and others) and tower crane at construction sites in groups which may cause a gathering;
10. Theory and Practical Examinations for Shot-firer (Blasting) for mining and quarrying industry;
11. Certification for agri commodities;
12. Activities of financial services industry and banking, involving sales and marketing, not within the premises of financial institutions and banks, or in public places;
13. Commercial activities involving sales and marketing not within business premises, or in public places, not including food business at food courts, hawker centres, food stalls, food trucks, and the like.
In light of CMCO, KPKT has then issued a simple diagram set out below: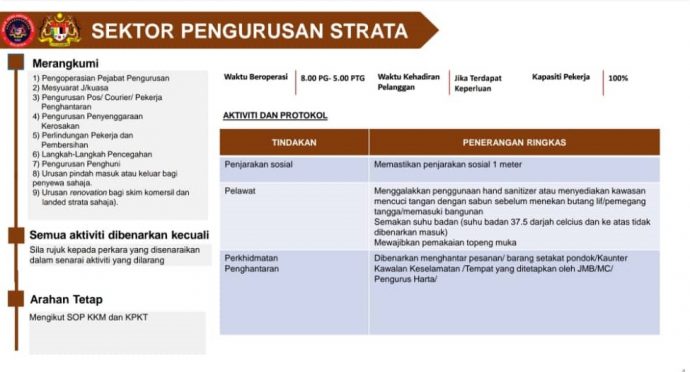 The simple diagram states expressly that the actions to be taken are:
to continue to ensure social distancing;
When allowing visitors to enter, the stratified development is encouraged to prepare hand sanitizer or hand wash facilities before visitors enter into a building and touching any of the surface within the building like lift buttons, staircase railing.
Delivery personnel is to allowed to deliver the items up to the security guard house or any other areas to be decided by the JMB / MC.
At the time of writing, a comprehensive guideline has yet to be issued by KPKT responding to the CMCO and there is no other guideline than the one revised on 8.4.2020 which remains applicable. In so far as whether the guidelines have force in law, we have also written about it previously.
Putting aside the issue of legality, a Developer / JMB / MC is now allowed to take into cognizance the spirit of CMCO, which provides a more lenient approach in curbing the spread of Covid-19. In applying the guidelines issued by KPKT on 8.4.2020, a certain extent of relaxation ought to be given.
Some significant differences made to those issued on 8.4.2020 include:
Q17 – A Management Office / Property Manager can now operate with a 100% manpower.
Q25 – There is no need for a company to inform or seek prior approval from the management office / property manager in a strata office building to obtain access to the office.
Q26 – There is no restriction on the number of employees of the JMB / MC or property manager and they are allowed to operate on a 100% basis.
Q32. Occupants are now allowed to carry on with their outdoor activities like jogging.
Q33. In a commercial strata scheme, most of the business (except those falls under the prohibited schedule) can now operate.
Meanwhile, we will publish the new CMCO guideline when we get hold of a copy.