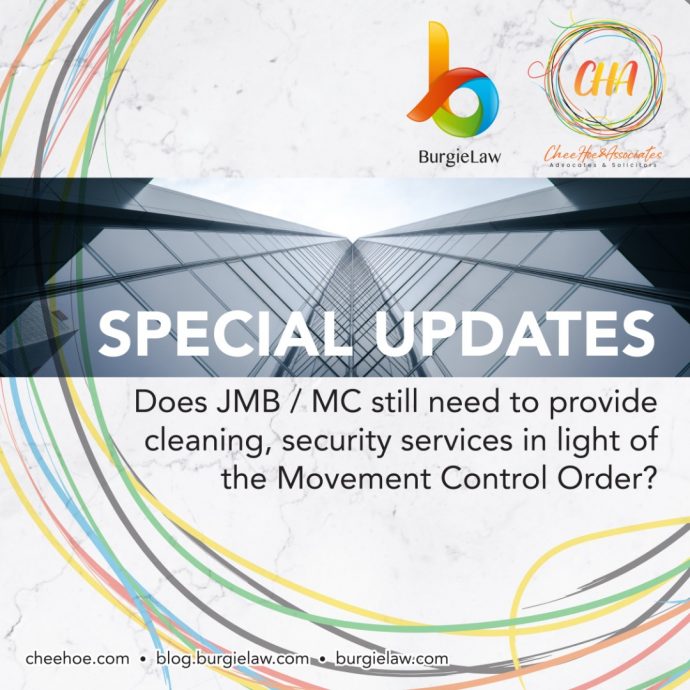 On 16.3.2020, the Government imposed a Movement Control Order for the period of 18.3.2020 to 31.3.2020 pursuant to the Prevention and Control of Infectious Diseases Act 1988.
The Movement Control Order includes the prohibition of mass movements and gatherings and further ordered all business premises to be closed during the Movement Control Order ("MCO") period except retailers which supply food like wet market, grocery stores or supermarkets.
It also involved closure of of private premises except to those providing essential services.
Essential services for a stratified property may include services relating to security, cleanliness, supply of utilities, waste disposal and response team to lift entrapment. These services should be absolutely necessary and important.
For those service providers which render essential services, such services should be retained during the MCO period. That may also include property manager services and if necessary a JMB /MC should request the property manger to have 1 staff stationed at the management office responding only to essential or urgent matters.
Non-essential premises or facilities like pool, gymnasium, sky lounge should however be closed in adhering to the Government's initiatives to prevent further spread of Covid-19.
If a JMB / MC wishes to suspend non essential common facilities, it can refer to paragraph 4 of the Third Schedule, Strata Management (Maintenance and Management) Regulations 2015 which empowers the JMB / MC to control, manage and administer the common property for the benefit of all parcel owners / proprietors.
In light of the different nature of each stratified development area, each Developer / JMB / MC should convene a quick meeting together with its property manager to determine what are the "essential services" that is required to the specific development area. After identifying them, the JMB/MC is advised to discuss with the service providers and inform them to continue render such services during the MCO period albeit on a reduced manpower for purposes to only carry out essential services.
If there is any AGM / EGM fixed, they ought to be postponed by way of issuing a circular to all parcel owners / proprietors to inform the postponement. The postponement if it is an AGM should not be later than the 15 month interval pursuant to paragraph 10(2), Second Schedule, Strata Management Act 2013.
Lastly, failure to adhere to the MCO directed by the Minister commits an offence and an authorised officer (Medical Officer of Health, any health inspector) is allowed to direct any person to take additional measures necessary to control the disease pursuant to Section 11(4) of the Prevention and Control of infectious Diseases Act 1988.
Since this is an unprecedented situation, there is no decided cases to refer to. It is however the view of the author that a Developer / JMB / MC should take further steps in line with the objective to curb the spread of Covid-19 by stopping renovation works to be carried out or preventing entry of non-essential service providers (eg: contractors).