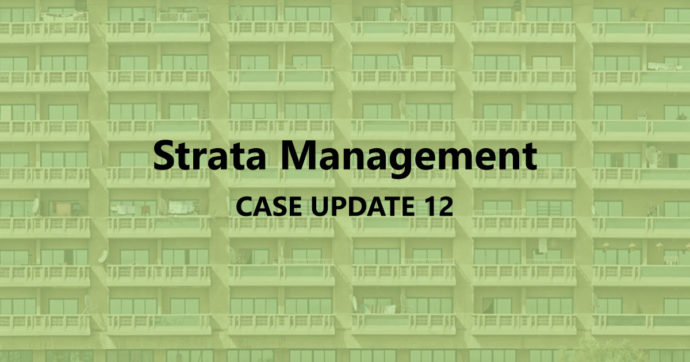 WOH FAT SOENG v CITY VIEW MANAGEMENT CORPORATION [2018] 1 LNS 1268
Facts:
The Appellant is the registered owner of an apartment unit in Kuala Lumpur. The Appellant's complaint against the Respondent relates to the Respondent's By-Laws and House Rules in regards to granting a short term tenancy to foreigners on a social visit pass.
The Appellant's tenant's Egyptian husband was on a 3-month social visit pass but was prohibited from renting the Apartment and was only allowed to stay as a visitor until midnight.
The Appellant alleges that the Respondent's by-laws and house rules on tenants and foreigners had caused him to lose 3 tenants. The Appellant therefore sought the following reliefs from the court:
A declaration that the Appellant is allowed to rent his property to any person he appoints;
A mandatory injunction compelling the Respondent to register and treat such tenant as an occupant of the Apartment; and
To declare the Respondent's By-Laws and House Rules which restricts the Appellant's right to rent his property be declared ultra vires.
By-Laws and House Rules
Clause 10 of the by-laws regulates the rental of apartments in the Building including to foreigners.
Clause 10 made it clear that the apartment and rooms of the apartment shall not be rented out to foreign nationals who are on Social Visit (Tourist Visa) or on Student Visas. In addition, all foreigners are required to submit their application to stay at the apartment to the management committee for vetting and approval.
According to section 59, (duties and power of a management corporation) one of the main duties of a management corporation is to enforce the by-laws.
Taking this into context, the Respondent  has a statutory duty to enforce Clause 10 which makes it clear that the apartments and rooms of the Building are not to be rented out to foreign nationals on a Social Visit (Tourist Visa) as such are the facts of this case.
Furthermore, the by-laws in relation to foreign nationals were incorporated through resolutions voted by the proprietors at the AGM in 2012.
Decision of the Court
Taking into account the By-Laws as well as the relevant statutes, the Court dismissed the Appellant's appeal.
The Court finds that if the Appellant's appeal is allowed, the net effect would have run foul of the by-laws of the building contrary to the provisions of the Strata Titles Act 1985 and the Strata Management Act 2013.
The Appellate Court also held that the Sessions Court was correct in not granting the Appellant general and exemplary damages since the Appellant had failed to prove the loss or damage he suffered since evidence shows that the tenant was evicted.
Takeaways
It is the duty of the Management Corporation to enforce by-laws by virtue of Section 59(1) (h) Strata Management 2013.
Download more case updates from our online store.