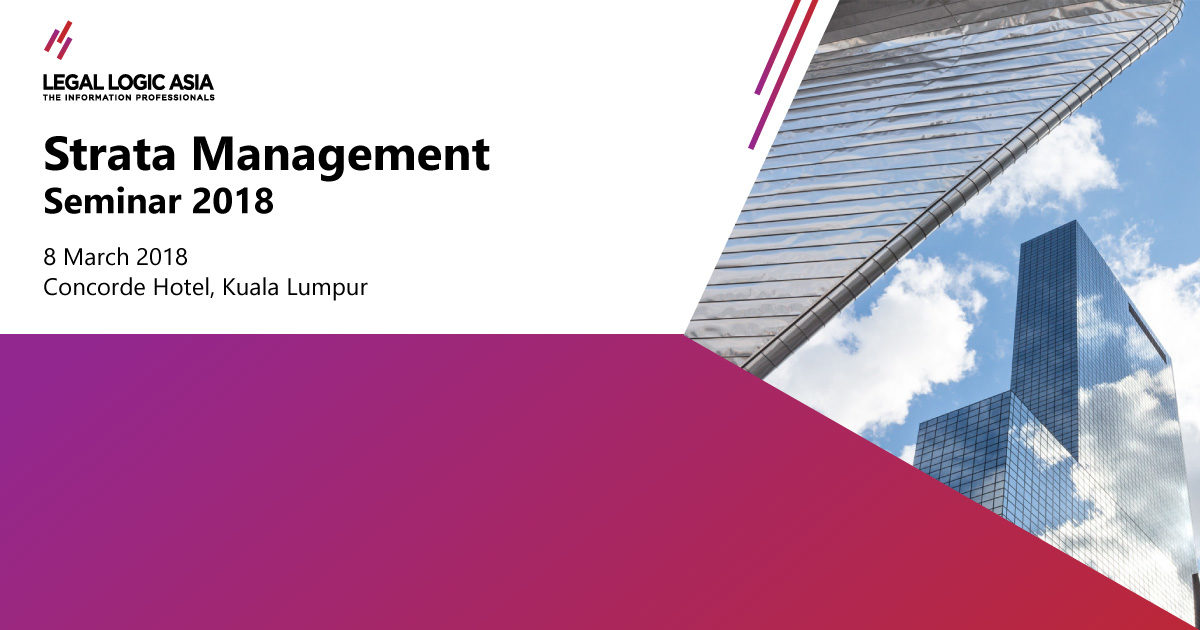 Strata Management Act ("SMA") 2013, Strata Management Regulation (Maintenance & Management) Regulation ("SMR") 2015 and Strata Management (Strata Management Tribunal) Regulations 2015 came into force on June 2015. More than two years later, there are still many challenges and problems in its implementation due to many unforeseen issues, consequences and legal obligations.
This 1-day intensive seminar will deal with the many current issues and problems faced by developers, purchasers, management bodies, property managers and the COB in the implementation and compliance of the provisions of the Strata Management Act 2013. The speakers will discuss in-depth what is involved in maintenance and management of buildings and common property, problems and issues arising during developer's management period and preliminary management period, the Strata Management Tribunal and its jurisdiction and powers.
Topics
The key topics that will be covered include:
New Guidelines for Limited Common Property from JUPEM
Overview of the Strata Management Act 2013 & the Regulations made thereunder
Current issues and problems in the implementation of the Strata Management Act 2013 & the Regulations made thereunder
Understanding what is involved in maintenance and management of building and common property
Strata Management Tribunal
Common questions and practical issued faced by Joint Management Body/ Management Corporation
Date: 8 March 2018
Venue: Concorde Hotel, Kuala Lumpur
Registration Fee: RM800/pax (early-bird), RM900/pax
Bar Council CPD Points: 6 points
Seminar Organiser:

Brochure and Registration Form
To view the complete seminar programme and speakers profile, please download our brochure and registration form below: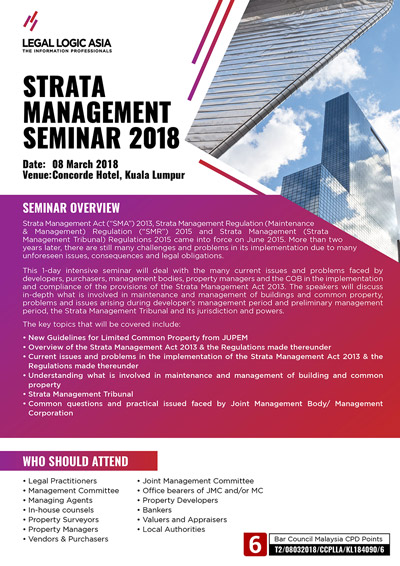 ---
Who Should Attend
Joint Management Committee
Office bearers of JMC and/or MC
Management Committee
Managing Agents
Legal Practitioners
In-house counsels
Property Developers
Property Managers
Property Surveyors
Valuers and Appraisers
Bankers
Local Authorities
Vendors & Purchasers
How to register for this seminar?
Please download the brochure and submit to Legal Logic Asia.