Consumer Protection Laws: How To File A Consumer Complaint
Imagine this: you're in a shop and spot a something you want.  As you pick it up and head to the check out, you see a large sign indicating the item is Buy One Get One free so you grab another one. After you've paid, you notice a mistake on your receipt – the cashier charged you for the second item that was part of the Buy One Get One free deal instead of waiving the price! You calmly march back into the store and ask the cashier for a refund. The cashier insists that your total sum is correct despite your clear indication that the second item was part of a promotional offer. Eventually, a manager appears but they too insist that the total sum of your receipt is correct! Frustrated, waste another hour filling in official complaints forms to the store before going home without your refund.
Situations like these have happened to others and unfortunately, not many know what to do besides making a complaint to the store management (or in some cases, making it known over social media). Thankfully, Malaysia has laws to protect consumers like you. More specifically the Consumer Protection Act 1999 (CPA; amended 2010). One avenue of recourse is filing a complaint at the Tribunal for Consumer Claims. You can call into their hotline (1-800-88-9811) or use their e-Tribunal portal.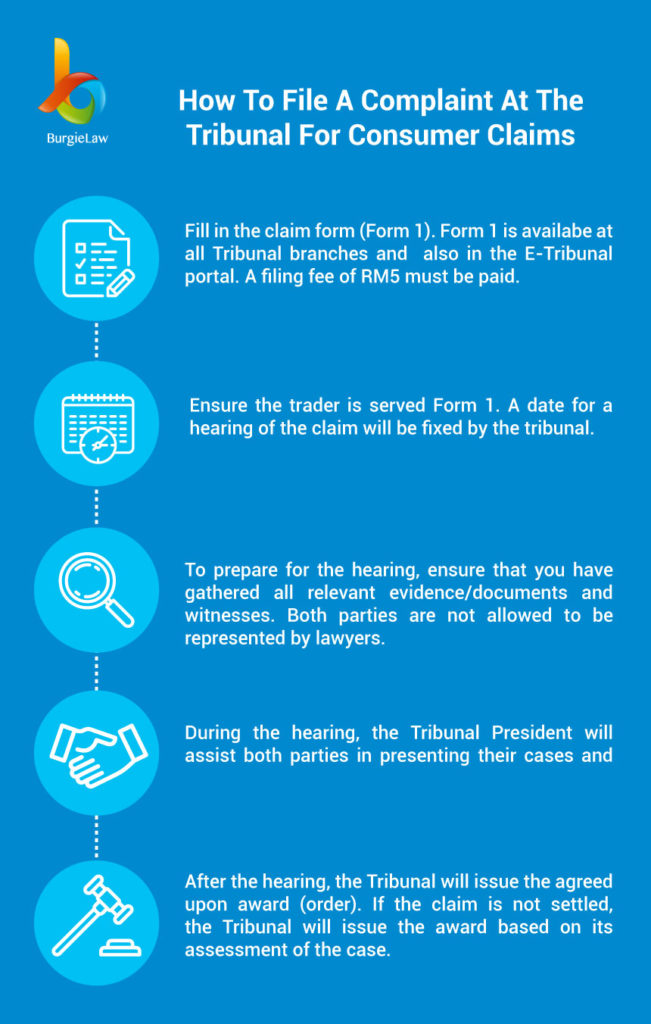 The complete procedure for both hearings and filing can be found here but some key things we'd like to highlight are:
Form 1 must be completed in 4 copies by the claimant (you) and filed in the nearest tribunal office.
Respondents (the trader you are filing against) can file their defence/counter-claim at a tribunal office.
The date, place and time of hearing is usually served to both parties in not less than 14 days.
If the claimant is differently abled or a minor, they may be represented by a friend or guardian.
All hearings are opened to the public
The types of claims you file for are as follows*:
False/misleading conduct
Unfair practice
False representation
Safety of goods and services
Rights against a supplier with any of the guarantees implied by the Consumer Protection Act
Rights against a manufacturer with any guarantees implied by the Consumer Protection Act (for Goods)
*These have been summarised but the full list can be viewed here.